Foreign hit squad responsible for the Assassination of Haiti's president have been caught
Police said Haiti's president, Yovenel Moïse, was murdered by a Foreign hit squad of 28 international mercenaries, including Colombia's former military, this week.
17 were captured, others at the home they used, and others when they entered the diplomatic complex. Following a gun fight in the capital, Port-au-Prince, 17 were arrested.
The police have murdered three individuals and are currently in the process of looking for eight.
Arrested suspects, bloodied and wounded, and a host of arms captured were revealed to the media on Thursday. Who organized the attack and what motivated it is still unclear.
The attack took place in the early hours of Wednesday, when gunmen broke into the president's home in Port-au-Prince, shooting him dead and wounding his wife. Mr Moïse, 53, was found lying on his back with 12 bullet wounds and a gouged eye, according to authorities.
Martine Moïse, 47, was seriously wounded and is in a stable condition after being flown to Florida for treatment.
Read also: Cocoa farming: A Lucrative Business in West Africa
Tools, weapons and passports Were seized from the hit Squad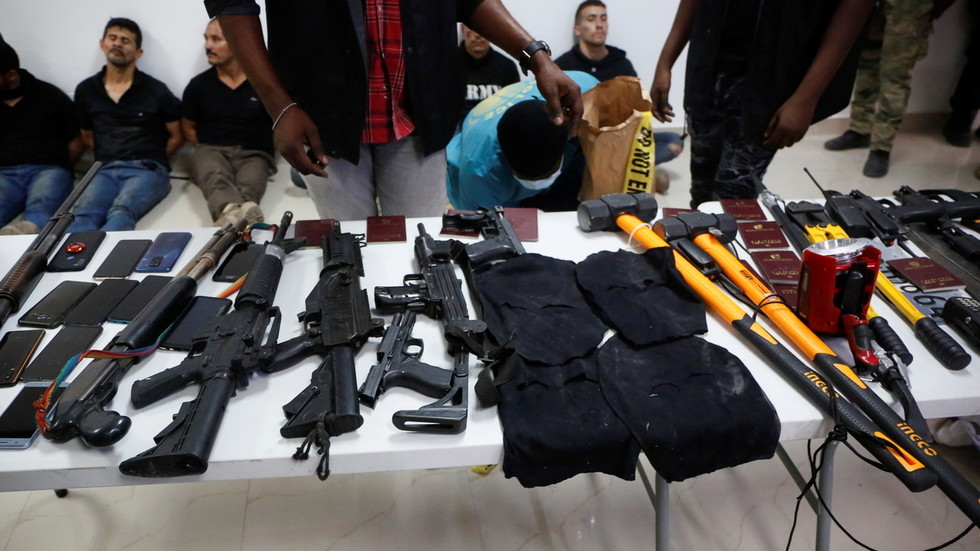 According to police, the assassination squad consisted primarily of Colombians, with two Haitian-Americans added to the mix.
Firearms, US dollar banknotes sets, the president's personal checkbook, and the server that had video footage from his house were found in the custody of the suspects, Le Nouveliste daily said.
After breach into the complex in a courtyard, Taiwan confirmed that 11 suspected individuals were detained.
Angry citizens joined the gunmen's hunt and helped police locate down several in bushes. Three suspect automobiles were fired by the crowd and the evidence had been destroyed.
read more from source: Africanews
If you are interested in positive African stories projecting the continent, then please click here to join our WhatsApp group now.
Download our apps now for easier access to recent news and articles!